A PHONE-FREE SHOW
---
Kevin Hart's Reality Check Tour
Kevin Hart's Reality Check Tour is coming to Canadian Tire Centre on Friday, April 14. This will be the first time the venue is required to use a technology which will require guests to deposit their smart devices upon entry to the show called Yondr Pouches.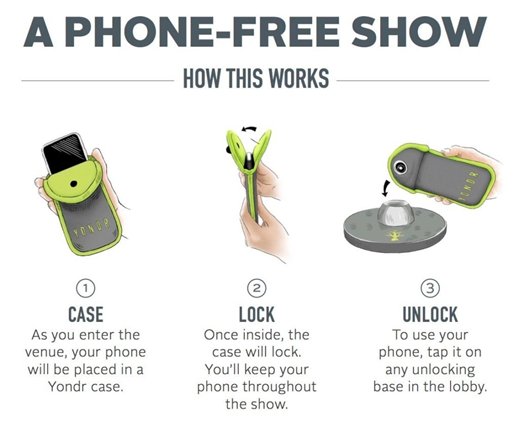 What is Yondr? 
Yondr creates phone-free spaces for artists, comedians, teachers, organizations and more. The Yondr system is a simple solution to a technological problem that allows you to maintain possession of your phone at all times. 
What does this mean for you?  
You will enter the venue as you normally would and have your ticket scanned on your mobile device. Then all guests will visit a Yondr Station where all smart devices (phones, watches, earbuds, etc.) will be secured and locked in a Yondr Pouch.  You always maintain possession of the pouch, but you will be unable to access your device(s) unless you are within a Unlock Zone.  
You'll be able to write down where your seats are in advance of your phone being secured so you remember where to go!  
How do I access my phone while I'm in the venue?  
There will be two Yondr Unlock stations within the venue.  The 100-level station will be inside Legacy Bar on the north side of Gate 1, across from section 119/120.  The other station will be on the 200-level just behind the elevators at section 208.   
You'll be able to feel your phone vibrate through the Yondr pouch when you receive calls or texts. At these two stations, Yondr staff members will unlock your Yondr Pouch.  You cannot leave the station until your phone and all devices are secured in the pouch.  
Do I maintain possession of my phone & smart devices at all times? 
Yes, after your device(s) goes into the Yondr pouch, you will remain in possession of the pouch throughout the entirety of the event. 
What if I use my phone or watch to pay for things?  
All guests will be required to pay for anything with their physical debit or credit card.  A reminder that Canadian Tire Centre is a cashless building. Cash to card machines are available in the Gate 1 lobby next to Bert's Bar and on the 200-level outside of section 208.  
What if I don't want to adhere to the policies of the tour?  
Anyone not adhering to the policies will be immediately removed from the building. No refunds will be granted for anyone ejected due to violations of the policy.  
How do I get my phone at the end of the show?  
All gates will be staffed with Yondr employees unlocking pouches for you to retrieve your belongings when you leave the venue. The stations will be outside of the venue on the plaza grounds.