Exclusive Canadian Tire Offer!
---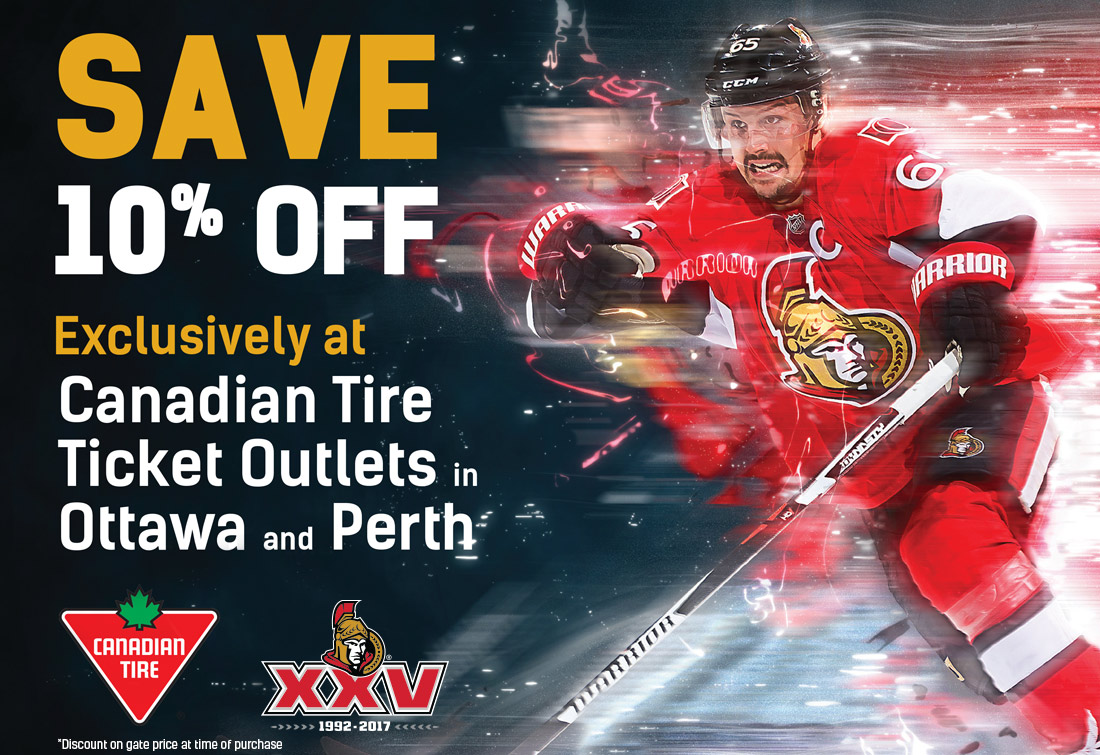 Canadian Tire has an exclusive season long ticket offer for YOU! Visit one of the 10 participating Canadian Tire stores in Ottawa as well as the store in Perth to get YOUR offer today. The exclusive Canadian Tire season long ticket offer includes 10% off single game tickets.
Exclusive Canadian Tire Offer FAQ
---
What does the offer include?
10% off Ottawa Senators Home Game single game tickets:
All available price levels (no exclusions)
Not for pre-season or playoffs
For single games only
Will be dynamically priced along with gate so gap is always 10%
What is the cost of a regular game ticket?
Senators tickets are dynamically priced depending on variables such as opponent, time of puck drop, or day of the week. This offer ensures there will always be a 10% gap from gate price.
Can I combine this discount with other offers?
Unfortunately, this offer cannot be combined with any other ticket offers. For example, you cannot combine the 10% off offer with the Pizza Pizza Power Pack.
Can I buy this ticket offer for any game?
Yes, all regular season games are included.
Can I buy this ticket offer online?
No, this offer is ONLY available at the 11 Canadian Tire Ticket Outlets in the stores listed below.
Is there a ticket limit available per person?
Yes, there is a ticket limit of 8 tickets per person.
---
Participating Canadian Tire Stores
---
Location
Perth
Ottawa Kanata
Ottawa Bells Corners
Ottawa Barrhaven
Ottawa Merivale
Ottawa Carling
Ottawa Bank/Heron
Ottawa Leitrim
Ottawa Conventry
Ottawa Blair
Ottawa Orleans
Address
45 Dufferin Street, Perth ON K7H 3A5
8181 Campeau Drive, Kanata, ON K2T 1B7
2135 Robertson Road, Nepean ON K2H 5Z2
2501 Greenbank Road, Nepean, ON K2J 4Y6
1820 Merivale Road, Nepean, ON K2G 1E6
1660 Carling Avenue, Ottawa, ON K2A 1C5
1170 Heron Road, Ottawa, ON K1V 6B2
4776 Bank Street, Ottawa, ON K1T 3W7
330 Coventry Road, Ottawa, ON K1K 4S3
2010 Ogilvie Road, Gloucester ON K1J 8X3
3910 Innes Road, Orleans, ON K1W 1K9